JAZZ COMMISSION
Early Thoughts / Subject matter / Process / The Pieces / Personnel / Gallery

Writing the Arrangements / Nitty Gritty / Specimen Arrangement / Diary
In 2009, I was commissioned to write a big band suite by the Watermill Jazz Club in Dorking. This is a very successful and enterprising jazz club which puts on lots of big-names as well as giving some local musicians a chance to show their paces. The venue itself (in the Friends Providence Social Club, Pixhams Lane - see photo below under Friends of Jazz) has an intimite feeling with comfortable armchairs and the bar is in an adjoining room so there is no noise to contend with. All in all, it is a very well-run place. Needless to say, I was thrilled to bits to be given the chance to perform there.
The gig will be on the 13th May, 2010 starting at 8.30pm, so if you are in this area please come along. It may be wise to ring Steve Wetherall at the Box Office first on 07751 466034 to book tickets.
Caution: if you like traditional big band music, such as Glen Miller or Count Basie, I'm afraid this gig will not be for you. However, if you prefer bands like the Charlie Mingus Big Band, the Maria Schneider Big Band, the Kenny Wheeler Big Band or the Mel Lewis Big Band, this might appeal to you. Anyway, have a listen to the clips - the little arrows and don't forget to click on them again to stop the music.
EARLY THOUGHTS
I thought it be might be interesting for people to know how I set about the task, how the work is progressing and what the band is like.
I originally thought of having an established local big band play it, but soon decided against the idea. Instead, I decided to hand-pick some of my favourite players from this area which means actually forming a new band. Hopefully, it can continue after the project is over. There are many excellent players in the Brighton area who deserve more recognition, not only young ones but sadly neglected not-so-young ones. It will be a pleasure for me to give them something meaty to get stuck into. I also think that a band should highlight its good soloists and not just give them token (short) solos which you get with a lot of printed arrangements.
SUBJECT MATTER
The only stipulation I was given was that it should focus on Dorking and the local area and the jazz club itself. Knowing very little about Dorking, I spent quite a time doing some research - OK, I looked it up on Google. It's amazing - I mean Dorking! When you look into the background of any town you come up with some very interesting things. Various aspects of the town fascinated me and I have used them as the basis for different pieces of music. I worked it out that I needed about 12 separate pieces of varying length to make up a suite. Each of them would have to be distinctive so I would have a variety of styles and tempos and different soloists could be used according to their own particular styles.
PROCESS
The first thing I did was to write 12 tunes. Fortunately, I do not find writing tunes very difficult. Arranging them is much more problematical and I often have to re-write bits. But so did Beethoven, so I am not worried about that. I also did a rough recording of all of them on synth. The tunes, the arrangement or the format might change a great deal by the time I get round to writing the arrangements, but at least it gives me something to go on, and most importantly something for my subconscience to work upon. Better quality live recordings will be added when I have had some rehearsals - they should start in January 2010. (I began writing these notes in December 2009.)
THE PIECES
1. For those of you who do not know, Dorking is a town in the South of England, near to the North Downs - a line of chalk hills south of London. Here are some photos of the town.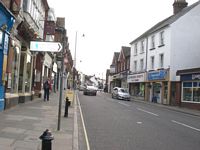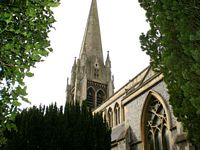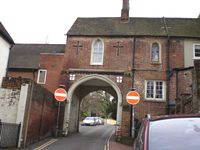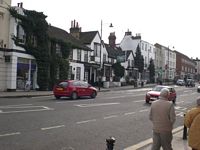 In the Cretaceous Period, Dorking lay on an alluvial delta of a vast shallow lake which covered a lot of Northern Europe. It was in a sand pit at Ockley near Dorking that an amateur fossil-hunter called William Walker discovered the remains of a dinosaur. In his honour, it was later called Baryonyx Walkeri. It was about 10m long with a crocodile-like snout which suggests that it ate fish.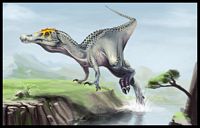 Painting by a Chilean artist called highdarktemplar.
So to me, that meant a slow-moving lumbering creature (represented by trombones) in pursuit of fast-moving fish (represented by the agile saxes and trumpet.)
Here is a soundbite from the gig
- - - - - - - -
2. Dorking goes back a long time as it lies on ancient routes. The Roman road, Stane Street, which ran from Chichester to London may well have made use of a more ancient pathway. It is speculated that Dorking may have been a "station" on Stane Street where travellers could change horses, (or chariots perhaps), etc. In any case, Celts used to live in this area and the old word for Dorking is Deorc Ingas - ie. the town of Deorc, which comes from the Celtic word meaning Dark, not the American slang word Dork. The Domesday Book which was compiled after the Norman Invasion in 1066 records the town as the Manor of Dorchinges. Today, it is a busy town which even has a jazz club!
So here is Deorc Ingas
- - - - - - - -
3. The previous tune and the next one I decided needed to have an almost-folk music style, the chord progressions of which are very appealing to me. The next tune, then, is dedicated to a former resident of the town - Ralph Vaughan Williams. I call it Ralph. For some obscure reason, Ralph is pronounced Rafe which sounds to me how an artistocratic labrador dog might bark. (If I had called it VW, people would think I'm refering to a German car).
The rough version here is on soprano with electric piano and string section so it has had to be adapted.
Here is Ralph
And this is what it sounded like played by the big band.
- - - - - - - -
4. In the 19th century, an early game of what resembles rugby was played up and down the High street in the town, starting from the church. (In rugby - unlike football, you are allowed to pick up the ball and run with it and members of the opposing team can tackle you to bring you to the ground.) The teams - with no restrictions on the numbers involved - represented the East and West of town, and the goals were the 2 bridges over the River Mole at Pipp Brook or Pippbrook. This is one of them: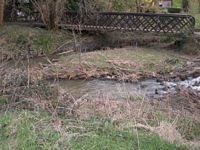 The game was stopped in 1897 under the Highways Act. You can imagine the mayhem which this game caused, so my piece has the saxes and brass battling it out (musically-speaking) with some collective soloing.
Here is Pipp Brook
- - - - - - - -
5. Each town has an eccentric character and in Dorking there was a Major Peter Labellière who fits that description. He prophesized the date of his death and requested his landlady's son and daughter to dance on his coffin. Apparantly the boy actually did so, but the girl just sat on it. Spoilsport! At his request the coffin was then buried upside down on nearby Box Hill, an appropriate name if there ever was one. It seemed obvious that a very quirky tune seemed to be called for.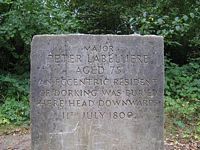 photo by Secret Pilgrim on Flickr - put mouse over to enlarge
Here is Major Peter Peters Out done on synth:
(Not to be confused with Major Peter's Peter's Out, which will mean something to English-speakers but will be confusing if translated into Japanese!)
Here is an excerpt taken from the tenor solo at rehearsal:
- - - - - - - -
6. The symbol of the town is the Dorking fowl, which the Romans brought to England. It is the only cockrel in the country which crows in Latin: Coccus-a-doodlus-duo.
The breed of poultry is distinguished by having an extra toe (5 in all) on each foot. On a roundabout in the town is a statue of a cockrel. Seems a shame that it wasn't fitted with a circular base as it would have made a superb weather-vane.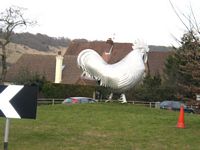 Not to be outdone by the cockrels (roosters), I wrote a piece for the females.
So here is a rather drunken Hen Party
- - - - - - - -
7. The nickname of Dorking Football Club is The Chicks, so the title of another piece is One for the Chicks. On the band parts, the title is written as ONE FOR THE CHIC KS. The letters KS are the initial letters of the name of the booking secretary of the club. This tune is dedicated to her.
Here is One for the Chic ks, played at a rehearsal in 2013.
- - - - - - - -
8. That leaves the male of the species. The title of this tune is Box and Cocks - two things which Dorking is renowned for, according to a lady that I once met there. 'Box' refers to Box hill just outside the town whereas 'cocks' obviously refers to the Dorking fowl again. Or I might call it something differently ... if I "chicken" out! No, the title stays. If you want to see some lovely photos of Box Hill click on these words.
Here is a live version of part of the tune after I wrote the arrangement.
- - - - - - - -
9. Not far from Dorking is the village of Abinger Hammer. Here there is an astrological clock which commemorates the fact that the village was once an important place with regard to the Wealden iron industry.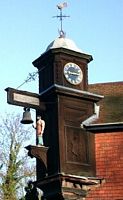 On the hour, Jack the Blacksmith strikes a bell with his little hammer. The motto written below states: "By me you know how fast to go". For me, having to direct the band, this was a gift as the arrangement changes tempo in various places.
Here is Abinger Hammer, minus the intro.
Simon D'Souza, shown here, plays a wonderful solo on this
- - - - - - - -
10. A tune I wrote was going to have the title "Surrey where the swing's on tap" (think of the musical, Oklahoma) but I have since changed my mind.
The new title is: The Golden Hind, dedicated to Roger Hind, the chairman of the jazz club. This tune features Mark Bassey and here it is
:
OK for those who want a picture, here you are: (put mouse over for more detail)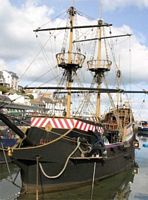 - - - - - - - -
11. At this point I have to admit to cheating. A few months earlier, I wrote a tune for big band and didn't know what to do with it. But then thought it would make a good opener for the suite or perhaps for the second set. (It has since been moved to number two in the second set.) The picture below might give a clue why I chose the name...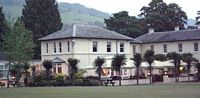 Give up? OK, it's the Friends Provident Social Club which is or rather was the jazz club venue. The venue has now changed.
So here is Friends of Jazz:
- - - - - - - -
12. Well, that leaves one more. This one relates to the fact that there are man-made caves beneath the town, used at one time by smugglers. They date from the mid-17th century. One theory is that the sandstone was used to rebuild London after the Great Fire of 1666. I was tempted to call it "There's a cavern in the town" but shortened it to Cavern.
Here is Cavern
Well, I thought that was going to be the last tune. But on a suggestion by the club that a very well-known jazz player would be invited along to listen, I said I would write another piece in his honour. So that makes 12 plus 1, of if you're superstitious, 14 minus 1. Here is a recording of the tune, For Ken, dedicated to Kenny Wheeler, taken from the gig.
Postscipt - In May 2013, the band did another gig at the Watermill Jazz Club. I included in the programme a new piece I wrote for Paul Hobbs, the club's publicity officer. You can see and hear it here.
PERSONNEL
Dave Moorhouse, Martijn van Galen, Robert Heasman, Bob Turner (trumpets)
Paul Nieman, Mark Bassey, Gerry Dearden, Howard Beagley (trombones)
Alex Bondonno, Phil Paton, Brendan Kelly, Simon D'Souza, Anna Jordanous (saxes)
Terry Pack (bass)
Dave Trigwell (drums)
Paul Busby (piano)
GALLERY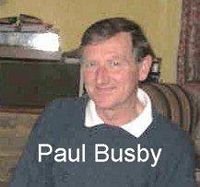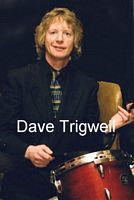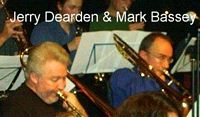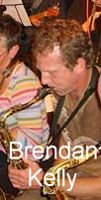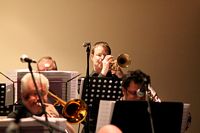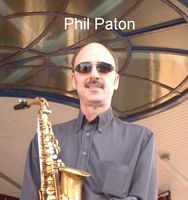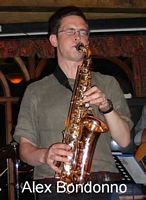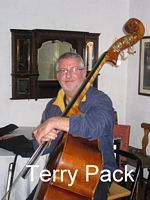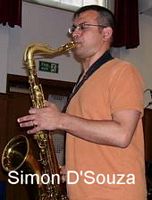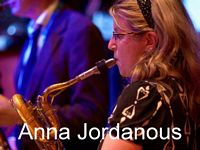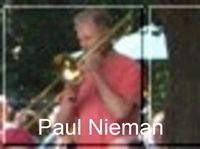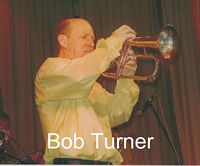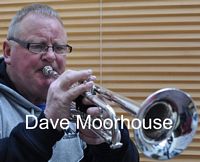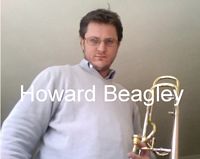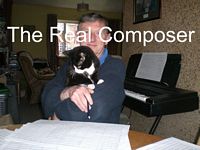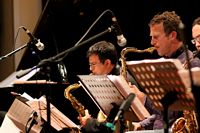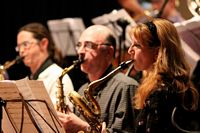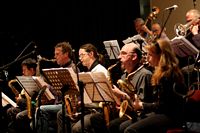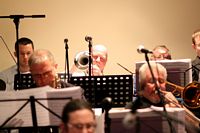 SOME COMMENTS FROM THE BAND
"The band is tops and the music will blow you away"
"Wonderful music"
"The best musical experience of my life"
"It's going to be amazing. Be there"

The rest of this page is devoted to musical issues and is intended primarily for musicians.
WRITING THE ARRANGEMENTS
Before I started work on the charts, I had to clarify what I wanted to achieve. As stated before, I do relish the idea of writing with specific musicians in mind and give them a chance to stretch out.To my mind, a commission requires something out of the ordinary, something rather special. It also is an opportunity to try out different things to see if they'll work. The down-side of this is that if they don't you can get quite depressed and end up re-writing large chunks.
For a few years now, I have been accompanying a ladies' classical choir. Much as I enjoy the sound of it - quite ethereal at times - I do find it rather wearying having to go over and over the same things to get them "perfect", ie. exactly as written. The danger is that the music can become sterile. Accuracy becomes the be all and end all, rather then the emotion behind the music. Nothing is left to chance. This is not a criticism of the choir but a comment about perfectionism. Apart from some mistakes which might be made, nothing varies so that each time a piece is played it is exactly the same as at other times.
This has served to highlight some of the differences between jazz and classical music to me. Classical music is like manufacturing high quality standardised goods. Every bit of individuality of the component parts - the musicians or singers - is repressed in order to create a polished, uniform product. The composer is king or rather, the dictator that no-one can challenge.
How different this is from jazz where the composer/arranger seeks to enhance the originality and creativity of the musicians. OK, sometimes for all kinds of reasons, things don't happen and you get a poor performance, but at other times the sheer level of inventiveness of the players is overwhelming. Admittedly there are passages which have to be really accurate, but even so, this will be coloured by the individual styles of the players, spurred on by a rhythm section which often has a large degree of freedom.
In small jazz groups the constantly evolving interpretation of a tune is most noticeable. For example, go to www.spotify.com and have a listen to the Bill Evans Trio play My Romance from the 1961 session at the Village Vanguard off the Waltz for Debby album. Then listen to the trio play the same tune on the album Turn out the Stars - The Final Village Vanguard Recording, made in 1981. If it had been classical music and the music for the earlier recording had been written down, and always played this way, the latter version just would not have existed. It is also possible for charts for larger bands to change over time, but needs some working out how to do it - something I will set my mind to in the future.
Musicians who can improvise are a wonderful resource. Let's not forget that many classical composers and other musicians of the clalssical and romantic periods were also great improvisers. That was before improvisation became a dirty word and reading music was elevated to the throne in classical music. Bring back improvisation in classical music and you might get some worthwhile music once again. Increasingly so, I have borne these thoughts in mind as I have been writing the arrangements.
THE NITTY-GRITTY
Starting with just the tune and chords and a few ideas, an arranger has to turn a blank piece of manuscript into a living thing. Sometimes, a plan might be thought up, but if you stick to rigidly to it, you lost spontaneity, which is akin to improvising as you are writing. You have to decide what instruments the tune and background will fit. Is it actually playable on the chosen instrument? Should it be a solo instrument or a section or the whole ensemble? How does that fit in with the whole scheme of things? Is it in the right key for the instrument/s concerned? If there are vastly different parts of the arrangement, eg. a fast 4/4 and a slow 3/4, how do you get from one to the other? What voicings do you want - what combination of instruments, open or spread, how discordant or concordant, what intensity, what volume? How do you cope with things which have to be changed to make them playable, such as a very busy harmonisation of the tune to make it easier to solo upon? (This is something I have had to contend with in several pieces.) All these points and more have to be addressed before you start out. But once you come up with some answers, the actual writing can be quick.
It takes me about 4 days to write a special arrangemnt. (A more conventional arrangement can be done much quicker.) I don't use a piano as I write but play things over beforehand to get ideas and I check the harmony over afterwards with a piano. Unlike some arrangers I can't write directly onto a computer programme, but prefer to have loose pieces of paper around me to refer to at times. I no longer write in the transposed keys as I find that when it comes to checking the harmony over it is a nightmare. Instead I write out each individual part and transpose where necessary when I write them onto computer. Even using various short-cuts, this is a long-winded task and can take much longer than writing the original score.
As to the process of writing the arrangement, I start by writing out the lead part/s for say, 8 bars, or longer if I have a clear idea of what I want to happen. (Sometimes it may be a whole chorus.) It is useful to follow this with writing out the basic harmony on the piano stave - it could always be amended afterwards if necessary. Then, I figure out where I want the background to start and who will play it and write out the lead part for this. At this point I may be stuck for what will come next, or I may have certain things in my head relating to what's already been written out, so I fill in the harmony parts. If the rhythm section is not doing anything spectacular which I want to remember, I leave this to later. With all the horn parts finished, I then go back and write out the bass and piano parts, adding any alterations, voicings or rhythmic phrases I want. Then, I do the drum part. With all the notes done, I then go over it again to put in any dots, dashes and slurs I might have missed out, and putting in dynamics which are usually pretty obvious.
This is the way I do it. Everyone does it differently so I am not recommending people to copy my method. But if you ever read an arrangement of mine, you know now how it was put together.
As of December 31st, I had finished off 8 arrangements with 4 more to go so it should be finished by mid-February. In the meantime I must organise some rehearsals...
THE INDIVIDUAL ARRANGEMENTS - A SPECIMENT
BARYONYX WALKERI
When I wrote the piece, I started off with a low slow-moving figure to which I added some almost-bebop lines which became the somewhat fragmented tune. The low chords (the first one is G an octave and a fourth below middle C, the F below that and the C below that) were suitable for trombones. The trombone left over (I use 4 in the section), is doubled with the lead but in a tin or straight mute to give the line a bit of bite. The swirly tune was good for the saxes, with the baritone player playing alto. Where the tune repeats, I bring in the trumpets in unison to fill in the gaps in the tune. I sketched this out, and recorded it (see above), then added the introduction on piano using the same sus4 triad voicing used for the trombones. The bass and drums are added after 16 bars, so there is a general progression from solo piano to full ensemble by the second chorus.
The broken-up style is then followed in a similar vein by a bass solo at the start of another build-up to a climax. I had to think up a chord progression which would have resonances of the trombone line and condense this into a 16-bar sequence. After 2 choruses, a trumpet joins in to play a contrapuntal (ad-lib) line with the bass. A unison sax line is introduced to which is added a chordal punchy trombone line in the next chorus and in the following the trumpets are added on top with their own punchy figures. By this time the bass is adopting a more traditional role, albeit still broken-up. The whole thing ends up in a descending chodal passage and a ritardo for the solo trumpet to wind down.
A trombone takes over in a rubato cadenza and it then goes into a half-tempo 8 bar chorus - the start of another lead up to a climax. After 2 choruses with just rhythm section, a unis trumpet line based on the tune occurs in the first 4 bars, answered by a unis alto line in the next 4. The next chorus is almost the same set-up, but a tenor solo is added to the existing trombone solo. It reverts to double tempo (tempo primo) after that, with the solos continuing and with a 4 bar trumpet and sax chordal line with the rest of the trombones on a low pedal. The trumpet and sax line is repeated a step up and then another step up, leading into a high discordant chord on the 2nd beat, and then this is repeated falling by semitones while the bass notes move by larger intervals. From ff it falls to a p, at which point the piano and rhythm section take over for the final 4 chords. The piano plays a short interlude before reverting to the sus4 triad chords in the original vamp, joined then by the bass and drums.
This lead into a recap of the tune (second chorus with the trumpet figures. At the end of the tune there is a high trill on the saxes and the trombones play the 4 bar vamp which the piano had previously played. The second trumpet fills on the long note on the 3rd and 4th bars and continues to solo while the vamp is played again. This time the tenor joins in. When the vamp is repeated once again the trombone joins the trumpet and tenor in soloing. The rest of the band except for the drums cuts out leaving just the soloist and drums. On a cue which I will give the band, a final unison half-note (minim) triplet phrase occurs, starting low and rising to a high note trill for the trumpets ending in a slurp up to a high C and a unison C for the rest of the band.
A few notes on this:
1. There are a number of lulls and climaxes.
2. Unlike many commercial arrangements, I try to give the rhythm section a chance to shine which then adds impetus to when the horns come in.
3. I have tried to keep the harmony pretty uniform to give it cohesion.
4. I do like ritardos, out of tempo passages and cadenzas.
5. Soloing by several people at once is as old as New Orleans and can be very effective, particularly if the players listen hard to each other.
6. Congratulations if you can follow this - I wouldn't have been able to!
DIARY
Januuary 4th - Rang around yesterday to start planning a date for the first rehearsal. It will be hard to pin down everyone so I might have to use a few deps at times.
I intend to start work on the what I originally thought would be the Opening number today. (Post-script: this is no longer the case.) I'm not too happy with the title I'd given it. I woke up in the middle of the night with the phrase Friends of Jazz on my mind. Although it hasn't got much of a punch to it, it is appropriate because the venue that the Watermill Jazz Club rehearse in is the Friends Provident Social Club in Dorking. Think I'll stick with it and call the whole suite The Watermill Jazz Suite. That saves any ambiguity. Funny, but now I've got a clear title to it, I feel I can get down to it more easily.
My initial thoughts before sitting down to start work on it are these: is it in the right key and how many times shall I repeat the tune? Could it have one more statement of the tune an octave higher with full ensemble, if so it needs to come down a tone as the lead trumpet player would not thank me for having to play a high D after just a few bars playing. If I don't do that, I might have to transpose the tune a larger interval so that the trumpets can be more effective. Decisions, decisions. I keep hearing a powerful tenor solo with a gradual build-up somewhere along the line. Certain tunes suggest certain things. Will keep you posted as I go on. In the meantime, for those of you who would like to see the chords for the second chorus of the soundbite, adapted for easy piano-playing, click here. (Best viewed whilst listening to the soundbite given above.)
January 5th - Well, I did go for the three choruses. No introduction as the tune doesn't seem to need one, thank goodness as I'm hopeless at writing intros. At least I'm not alone in that respect. The first 2 choruses are as on the soundbite. The first is unis (and an octave down) for saxes joined in the 9th bar by the piano and bass figures. The second chorus is to be played by saxes, trombones and trumpets 3 and 4 and rhythm section. Each section should be complete in itself harmonically (usually) but here with just 2 trumpets I've added them to the trombones to form a mini-brass section. Piano fills in the gaps in the tune. In the third 16 bars, the first and second trumpets join the brass section and the tune is played an octave higher in block chords. I wanted to save the lips of these 2 trumpets through delaying their entry as the register is quite high. Some arrangers write very high for the trumpets and trombones, which is alright if you have players used to that sort of thing. But for most ordinary bands, this is just not practical. Besides I don't like the sound of a screaming lead trumpet.
In the gaps in the tune for the third chorus, I have got unison saxes doing busy fills. Sax players like to wriggle their fingers about as it makes them feel like Charlie Parker or John Coltrane, so I have obliged them here. The unison line turns into a solo tenor line which then goes into a solo on the sequence given in the pdf file.
This is another tune where a chord progression has had to be made up separately. It roughly reflects the sequence used for the tune, but simplified considerably. I do wish other arrangers would think about simplifying their sequences for soloing on - not the chords themselves, but the frequency of the chord changes.
I'm afraid that's as far as I got yesterday as I started only in the mid-afternoon. The rest of my time was spent on ringing around to fix a rehearsal. Today looks like it will turn out the same, although we have fixed the 18th January as the rehearsal date. Even so, I have to print out some of the parts for different players to look at beforehand and also do some sound-bites on the synth of different bits and dabs, so I will not be progressing as fast as all that with this arrangement.
January 6th - 8th Spent three days copying out parts to send people to look at prior to the rehearsal and in doing sound clips - it all helps.
January 9th - After a few days off I managed to do a bit more on the latest arrangement. But not progressed very much - it's difficult picking up the threads after even a short break. Plans for the first rehearsal gradually progressing. I still need to get 2 more people. Otherwise, all fixed up.
January 10th Did a lot of writing today. Some arrangements are much easier to do than others and take much less time - this is not one of those. I've come across a few sticking points which cause delays and a lot of head scratching. They may not be ideal solutions, but at least I can move on and if necessary come back later and change them. So many things to think about in doing a big band arrangement. The snow which we've had for a few days is just beginning to melt. I'm not alone in saying that the snow and the disruption caused by it, which we are not used to in the south of England, make you feel apathetic and unsettled. All you want to do is to curl up on a comfortable armchair by the fireside with a good bonk.
January 12 Apart from last minute checking over the harmonies, I have now finished writing Friends of Jazz, so I'll fill you in on some of the details. One of the sticking points, I mentioned earlier, was the chord progression I devised which just didn't flow as I wanted it too. So I've changed three of the chords. See the pdf file of the piano part.
The first 16 of the tenor solo is just with the rhythm section, played with a broken-up feel (I just wrote "broken-up" on their parts.) In the next chorus, I bring in a unison alto and tenor line (p) and overlapping sustained trombone chords This is useful as it gives both the saxes and trombones a chance to breath without having any embarrassing silences, which women on their first date seem to think is not very good. To build up tension and dynamics in the next chorus I added the trumpets to the trombones and added the baritone sax - I don't want him (postscript - her) to feel ignored. If players in general haven't got anything much to play or anything of inerest, they lose interest, start chatting or eat their sandwiches.
A few transistion bars were needed before the next solo (trumpet). As there had to be a wind-down I brought the register down, dim-ed, and ended up with a solo bass for 2 bars before letting the trumpet start. Like the tenor solo, the 1st chorus is just with rhythm section. Commercial arrangements don't do this very often, as it is a risky business unless you have excellent rhythm section players who can provide a lot of interest. Fortunately, I have a wonderful bass player and drummer who relish a chance to show their paces away from the horn-lines.
When writing an arrangement you tend to assume that the soloists will have a microphone. This allows you to write a background to their solos which would otherwise be overwhelming in volume. I stuck to the same format as with the tenor solo with the same figures, but this time switched the trombone and sax parts over. In the 3rd chorus I added the trumpets, but just icing on the cake, nothing much more.
For a moment's respite from the full ensemble at the end of this chorus, I inserted 4 bars drums (with a dim). This sets up the volume level for the 2 ensemble choruses which come next, mainly in block chords with occasional sax unison lines. I hope they will be able to breath! I write the brass chord first and then the saxes, doubling any weak low-register trumpet notes. Sometimes, the lead alto doubles the lead trumpet part. (I once read that you shouldn't do this and then came to learn that many arrangers actually do.) If the trumpets are too high for this (over F - the last line in the stave in concert pitch) you have to double the lead alto with a lower trumpet or switch about to get a nice line. The other thing to think about is to give the sax section a complete chord in itelf.
Writing chords for the instruments is a matter of your own style. I try to avoid the bass notes in the horns as it can sound too grounded. I do like close harmony, particularly clusters, but the instruments have to be in tune, or it can sound terrible.
The 2nd ensemble chorus dies down and as a bridge passage I gave a little figure to the rhythm section for a few bars. Then the tune comes in again in unisons, together with an answering (echo) after alternate phrases. It would be too predictable to do it after each one.
The tune is repeated agin, but this time in full block harmony for 8 bars, then minus most of the trumpets, then just the saxes in harmony and with the last phrase unison. I didn't think there was any need to prolong the agony, so I finished it with just two quiet brass chords. Will it sound OK? I haven't a clue. I may have to rewrite bits, but I'm quite happy with most of it.
Any professional arrangers reading this will probably be screaming - you can't do that at various points. I hope I don't have to say too often, you're right.
January 13 - 18 This period of time will be spent in copying out Friends of Jazz. Also in printing out all the arrangements and (a job I hate doing), sticking the pages together with sticky tape/sellotape without putting them in the wrong order or upside down or different parts together and without having a fight between the tape and the paper. If I get time, I will also see if I can play the piano parts!
January 20 I did a very silly thing on Sunday. To help mediate the tedium of taping 500 pieces of music pages together, I listened to a Maria Schneider CD. That sort of thing is fatal! I felt like ripping it all up. But nothing would ever get written by anyone if they did this. It's similar to playing a gig at a venue straight after recorded music of someone like Miles Davis or Coltrane. I once thought of recording a really bad CD that could be played before the band starts. That would be good psychology.
The first rehearsal on Monday went much much better than I had expected. So I didn't end up weeping inconsolably or kick the cat when I got hom. (For cat lovers, I don't really mean that. Notice: no animal has been injured in the preparation of this music.) We went through 8 numbers so no time to do any polishing or work on details, but at least everyone now has a rough idea of the overall arrangements. Nevertheless, it is a frightening ordeal to have to listen to the new music I'd written for the first time. At least there were not too many wrong notes I'd written. However there was one piece which I had changed in the planning, cutting out 2 bars in one section and had forgotten to adjust the number of bars rest for the trumpet players. Instant Stravinsky! I could not work out what was wrong - but it sounded interesting! One thing I had not counted on was the lack of heating as the radiator in the room didn't work. The Hot Club of Clayton it was definitely not. (That's where we rehearse.) Next rehearsal is planned for the 22nd February.
23rd January It has taken me several days to make some minor changes to the 8 arrangements we rehearsed. I can't understand where the time has gone. Just changing the notes in one chord in one chart and omitting a few crescendos in another, and adding a bar in yet another one - things like that, means you have to make adjustments on all the parts, re-print it and re-tape it. Fortunately, someone recorded the whole session so that was very handy in assessing it.
25th January Started work on the next arrangement yesterday, referred to above as Surry where the swing's on tap, but that will not be it's real title. It is going to be mainly a feature for the wonderful trombone player and one of the nicest people about, Mark Bassey, with an additional solo for the 2nd tenor player, Simon D'Souza. Thought of the introduction lying in bed and used it. Suddenly realised yesterday evening it was a Sunday and thought I must have some time off so read a book. I've taken to reading books again lately. I like the way that different themes are treated at different times in fiction, film and the theatre. By which I mean one strand of the plot focussed on for a chapter/scene, swiching to another strand and so on before they all get tied up together. Wonder if I could do the same with music. Art (including photography) has been more of an influence on me in the past.
So after the intro, I've written the first chorus. It's one of those tunes which writes itself so not much grey matter taxed this morning. But now I've come to the last few bars of the first chorus and have to think what to do next, apart from having some lunch, that is.
26th JanuaryMust have been something I ate for lunch but the rest of the day turned out to be very fruitful - music-wise. I dispensed with the idea of a tenor solo and decided to devote the whole thing to the trombone as a feature. After a solo trombone chorus (48 bars long plus an extension), I introduced a call and response sort of thing - an idea that goes back to the African roots of jazz. First, the band does the calling and the trombone responds and then it switches around and the key changes. It's one of those tunes which start in one key (C) and end in another (F) so the key change goes up to G which enables me to get back to the original key very smoothly. The only problem in building an arrangement on a solo feature is not to make it boring for the audience and tiring for the soloist. So the ensemble has to work pretty hard to provide the necessary relief. (However I should point out that I would never get bored listening to Mark's playing and I'm sure no-one else would either.) And so back to work.
27th JanuaryFinished the arrangement yesterday afternoon. Didn't know where the ending was taking me - it turned out to be B major. I was aiming for F major, but the notes over-ruled me. I got as far as having an F# major triad in the trumpets and an F triad in the trombones, ready to coast home to F, when the unruly trumpets decided to move up by semitones to a B triad, while the mischevious trombones moved down by semitones to a C triad. I had to step in then and put them all to bed in B before they got into any more trouble.
Having problems with pencils. They have to have a very fine point as the score paper has small staves. I bought some HB pencils in the village and they were rubbish. Time spent doing the arrangement was, say, 12 hours in total. Time spent in sharpening the pencils - 13 hours. Hopeless! Also need to buy some more rubbers. For American readers, a rubber in England is what you use to rub something out with - like pencil marks on a piece of paper. You can do what you like with yours, I shall erase notes with mine. So off to Lewes I go.
1st February Finished copying out the arrangement. Tomorrow, I must start on the next one - the penultimate one.
4th February - I didn't get far on starting on Box and Cocks on Tuesday, what with other things to do. When I did get round to it, I nearly felt like rejecting it - I admit it's a bit corny, but I do need something people can relate to easily which is more in keeping with what they might expect of a big band.
After dinner when I was doing to do some practice, I sat down and the idea for the intro came into my head straight away and along with that came the first A section, so the tune has survived.
Introductions can be the hardest part to do. Stories abound of arrangers spending long hours trying to come up with a plausible introduction, even some very well-known arrangers. An introduction has to set the mood for the piece, grab the listener, provide an interesting prelude to the piece without overshadowing the tune itself, contrast itself with the tune so listeners can detect where the tune starts, yet at the same time it must belong to the piece. Some intros are quite easy to think up, but many are a challenge. Sometimes, it is possible to do the introduction after writing all or most of the rest of the arrangement. Sometimes, where material from the intro is used throughout the piece, it really has to be done first.
Yesterday, I carried on with the chart and got to the end of the first chorus. I said it is meant to be a conventional chart. But the tune is first stated by the baritone with harmony by 2 trombones and the piano (no bass). The middle section has an almost Eastern European sound and the whole thing has a rock/Latin feel to it. Well, this is my idea of being conventional.
8th February Finished writing the arrangement of Box and Cocks. Half way through it I got stumped and spent a few hours writing something which I later changed my mind about and scrapped. The problem is that usually, the first idea is the best, but you also have to be prepared to change it so there is always a bit of reluctance to do so. (Some advice for beginners - never fall in love with things you have written. Even top arrangers have to rewrite things sometimes.)
One of the things in this chart which has taken me a lot of time to do is to harmonise a rather fast moving lead line. I'm not keen on what is called the thickened or widened line which consists of mainly 6th chords and simple diminished chords - the standard way you can harmonise a moving line which can be heard on so many arrangements. Fatter chords (5 of 6-part) are more to my liking but this can lead to some complex chords which take longer to work out as they have to be resolved neatly.
Instead of using block chords for the "shout" chorus, I alternated between unison lines and chords and between different sections (saxes, trumpets, trombones, and combinations of these) for each phrase. I hope it works! As a contrast to this I followed this with a piano (and rhythm section) passage as per the intro, but going into a solo from this and back again afterwards. I was then able to re-introduce the tune again which sounds natural as it reflects back on the first chorus. Contrasting sounds and dynamics and building various climaxes are what it's all about. And now I have to copy it all out. A daunting thought as it's a long one and quite illegible in places.
15th February Phew. Finished copying out the parts for Box and Cocks all ready for the next rehearsal on Monday. Now I must start on the last one. I've got some ideas, but I can afford to take my time on it as I can't possibly finish it and copy it for the rehearsal on February 22nd.
23rd February Finally sorted out a conundrum (splendid word, that). I've been thinking about what to do about the piece, Cavern for some time - it's not an obvious choice for big band treatment but therein lies the challenge. The arrangement definitely needs an introduction, as it would not sound very good launching into it without one. (The soundbite of the tune can be found above.) But what to do as an intro? As it is about a cave it needs an introduction which would set the scene, so something deep and resonant and almost static. The solution that suggested itself to me was a slow-moving trombone chordal introduction. So I took the chords from the sequence as the basis for this. The top line becomes a melody in itself. But here is the problem -
The chords I want are minor elevenths. For the first Bm11 I could have chosen this voicing from the top: E (above middle C) - the 11th, D - the 3rd, A - the seventh and B - the root note. As the chords are sustained, I felt the need for a horn to play the root-note and not just leave it up to the bass. This gives the deep resonance I want. So we have 4 notes and we have 4 trombones. Fine!...?
No, I want something with a bit more sparkle. The voicing I want includes the 9th too. From the top E, D, C#, A, B. The semitone between the C# and D provides the sparkle. But, what do I add to the trombones? The baritone would be one answer, but the chords go too low for the baritone a few bars in. I could change key, but then the tune which spans a 2-octave range would put the alto lead on the high F - OK, but just a bit too high as it starts getting thin up there. Further into the tune, the tenors are needed to bolster up the altos when they reach a muddy low point.
So the obvious solution is to give the trombones the lowest 4 notes and add trumpets above on the lead note. But the lead line is very low for the trumpets and they could be swamped by the trombones which are in a fairly high strong register. Doubling the trumpet line with another helps a little but it's still rather weak. I then thought that if I changed that chord to a six-note chord: E, D, C# A F# and B, I could use all 4 trumpets on 2 of the notes. But instead of giving them the top 2 notes (E and D) I think it gives a better sound to give them the E and C# and give the D to the trombones which then have a complete chord between them D A F# B. Finally, to give the trumpets a bit more body I doubled them with the altos and gave the 2nd tenor and the baritone two of the trombone notes - this gives the saxes a complete chord too. The 1st tenor meanwhile plays fills (on soprano) on bars 5-8, 13-16 etc.
Sorry if this is rather detailed, but it shows how much attention to detail is often required in writing arrangements.
The first chorus therefore consists of long harmony chords in their own right with soprano fills. The drums and bass are sparse, giving the impression of being out-of-tempo, the piano tacit. For a second chorus, the horns play a different lead line slightly higher than before, and the drums and bass go into a more defined tempo with the piano has octaves on the second and third beats so there are sufficient things to maintain interest.
Finally, on the third chorus the tune is played. The intro therefore turned out to be 64 bars long! I followed the tune with an ensemble chorus of different sections taking the lead in different phrases so as to give some added suspense before the first solo. The drums play broken-up feel up till here.
Just to see if it all worked, I took the arrangement as far as it went, to the rehearsal yesterday and felt pleased with the sound. It was also a possibility to try out some of the other arrangments. The band played excellently. I was delighted and to celebrate I had a bowl of muesli when I got home with the cat on my lap. What more can a man want..!
February 28th Having listened to a recording of the last rehearsal my mood has changed from upbeat to pretty downbeat. So much work to do on tightening things up. Still not sure what to do about certain things. Amazingly, the things which I didn't know if they would work mostly seemed to, but I'm making some fundamental mistakes, like taking the trumpets too low. Think I will take away the doubled trumpets in the first part of Cavern as the notes are doubled by the saxes anyway and it might take attention away from the funny low register sound of the trumpets - what I want is a blend, but I'm getting too much brass coming through.
There is also a passage in Hen Party where (only) some of the instruments (altos and 2 trumpets) go into double time which is too prominent as it detracts from the trombone solo. Will have to decide whether to cut this bit out and rewrite it all in the prevailing half-tempo or leave it in and cut the number of instruments involved. Pity. Again, the dilemma of leaving first thoughts intact - which are usually the best ones, or whether to edit for the good. I'm sure other arrangers have this problem too. Postscript: I kept the double-tempo passage in but limited it to just the altos on the first go round.
I have now finished writing the final piece, bar copying it out. My mother will be pleased as she worries about it for me. She doesn't realise that it's not a chore but a pleasure. It goes back to the days when I was just starting to write and had to do an arrangement of West Side Story as a quickstep medley for a fairly large band, and had to sit up all night when the deadline loomed large. Mothers never forget these things. Incidentally, the arrangement was a disaster as it would be. But I lived to tell the tale.
3rd March Still copying out Cavern. Today, had to go up to Dorking and have a publicity photo taken in front of the cockrel on the roundabout for the local newspaper. Spent a very pleasant time in the town taking photos, some of which I have added to this page. On first-hand experience I can also reveal that Dorking has an excellent fish-and-chip café and a wondeful modern sports centre with a very good toilet.
20th March I did finish off Cavern, but the arrangement did not turn out as I first envisaged with a never-ending tune. After 4 choruses of everyone playing, I thought that most people, except for a soloist, should have a well-deserved break. But what I did do was to think about a cave: it's something you go into and (usually) come out the same way (unless you are eaten by some creature that lives in the cave!) So what I did was to get to the half-way point, bring the whole thing to a virtual stop and then reverse my steps out again, the AB form therefore becomes BA...but not exactly. There are some surprises left to discover on the way out. Writing music can be fun when you dream up things like this and instead of thinking in abstract terms, you are doing something very practical.
Just when I thought I had finished all the pieces, bar a few edits, I was informed that the jazz club might invite a very special guest - a very well-known international jazz musician to come along. Without really thinking I said that I would therefore write a piece in his honour. I sat down at the piano and immediately the tune came to my mind - nothing too wonderful, but as it came to me in a flash I thought I would have to use it. Had I pondered about it, I would never have been able to write something as it was a daunting task. I will tell you about it later. In the meantime we have another rehearsal on Monday and then just 2 remaining ones before the gig.
March 27th - So I completed the new piece and took it along to the rehearsal. The tune itself is based on just 3 notes with changing harmonies, but the difficulty lies in the timing. There are also a few passages where each player in a section plays a completely different part to the others. (Players in a section very often follow each other's lead so if one person goes wrong they all do.) At one point where the saxes have got the lead, I felt it necessary to counter the simplicity and sweetness of the tune by putting in atonal brass fills. On the repeat I de-coupled the trombones from the trumpets and got them to play a separate atonal line with this voicing for each chord: lead, a major second below and a perfect fifth below the lead. The bass trombone is separate and plays a pedal note throughout. I was very pleased with the result. It can be a lot of fun to experiment.
The other pieces we did at the rehearsal are shaping up nicely now but I do need to write in some verbal cues so people won't get lost. This is necessary as the less I have to conduct the band, the better. It also gives me time to try and read my own piano part. At the moment, I am the one making most mistakes. Some more sound-clips and photos will be added very soon.
March 31st - Now that I've finished the editing, I can sit back and assess more easily what I've done. What I set out to do was to write about 12 pieces (13 done) in different tempos and with different feels and with the express purpose of giving everyone in the band at least 1 solo. I've also tried to draw on appropriate influences, such as English folk music, instead of aping the familiar big band sound. If I was clever, they would all be linked together in some way, but I'm not. Besides, you can sometimes be too clever!
What I have deliberately avoided doing is writing conventional big band charts. I've avoided the old hat II V Is with just a few exceptions and I've have steered clear of the usual 4-part harmonisation of a line - referred to often as the thickened line and the widened line.
I wrote earlier on about classical music which gives individual players no room to express themselves. Classical composers could be accused of being very vain and egotistical while classical music players seem totally restrained by the written notes and expression marks. Unfortunately over the years, jazz (and even more so pop music) have followed the classical music trend, by demanding strict and unwavering obediance to what is written with less and less input from individual players in the final result.
In these pieces, I have tried to give a lot of people a lot of freedom. My aim, at least in some of the pieces, has been to create big band pieces which have all the characteristics of combos. I hope I have succeeded. I'll try and incorporate this into future composition. Improvisation is a wonderful tool and it's time to put it back into arranging for big band.
Next rehearsal is on April 19th. In the meantime, I must try and arrange some more gigs for the band and see if I can get a good quality recording, if I can afford it.
May 6th - Well we had the rehearsal and another one last Monday. The band sounds great. A lot of time is spent on working out how to cue people in at various times. For me, I have to co-ordinate my playing with waving my arms about at odd times. If any of my neighbours wonders about me, no, I am not having a epileptic fit - I'm cueing people in. No wonder my cat looks at me very strangely these days.
May 14th
Gig over. The band was much appreciated. There were some great solos and some good moments. We did come unstuck sometimes but managed to get back on track. You will be able to find the arrangements on the third big band page.
I hope people have enjoyed reading about the May gig and perhaps found it useful.
May 2013 - The band did another gig at the Watermill. For this gig I wrote a new piece for Paul Hobbs, the publicity officer for the jazz club. Here it is.
To find out about the next project - the Brighton Jazz Suite - go to the next page.
go to the East Sussex Jazz Suite
go to the 1st part of the One World Jazz Suite
go to the 2nd part of the One World Jazz Suite