THE SUSSEX JAZZ ORCHESTRA
This is archive material. For more current information about the band, please go to the band's website
History
The Sussex Jazz Orchestra was formed by Ian Hamer in 1987 to play the music of Ian Hamer himself, Tubby Hayes, Stan Tracey, Kenny Wheeler and others. At first it was called the Sussex Youth Jazz Orchestra, but because many young people came and went as they started out on their careers or went on to universities elsewhere, the word Youth was removed from the title. Since then, the band has been open to anyone, male or female, and any age. There are many excellent young people in the band, several of whom have been or are currently attending jazz courses at various colleges. A few people have been with the band since it was formed or shortly after. There are also some people who play with the band once in a while but not on a regular basis.
Following the death of Ian Hamer in September 2006, the band was led by Paul Busby until November 2008. The position was then held by the trumpet player, Martijn van Galen until August 2010. Another trumpet player, Matt Ellis then led the band. The current leader is the celebrated trombone player, Mark Bassey..
Amongst well-known players who have at some time or other played with the band are Kenny Wheeler, Alan Downey, Byron Wallen, Mark Bassey and Alan Skidmore. John Altman, Simon Spillett and Charlotte Glasson sat in with the band at the reception, following Ian Hamer's funeral service. In fact, Charlotte began her career by playing alto with the band at the age of 13.
Details
The band rehearses every Thursday and has a conventional format of trumpets, trombones, alto, tenor and baritone sax, piano, bass and drums. There are an abundance of players and that means having to double-up on many parts, but that does not really matter that much - at least everyone gets to have a play and become familiar with the charts. For any vacancies, please contact Patrick at g8aac@yahoo.co.uk or ring 01273 624446. Players should be able to read - some of the arrangements are quite tricky - and everyone must be prepared to solo. Sorry, it is not possible for people to sit-in with the band, unless they are "name" players.
The Music
There are very few "printed" arrangements in the pad, except for some Thad Jones-Mel Lewis charts and a few others. If you want to hear the standard big band repertoire, there are plenty of other big bands around which will cater more to your interest. However if you would like to hear music you don't come across elsewhere, do come along and hear the band.
Hear the band
Here are some short soundbites of the band, recorded at a live concert sometime in the 1990's on a minidisc. The quality is poor but the enthusiasm shines through it. You can also hear Ian Hamer encouraging the band in the background! Click on the music-player or the titles to hear the tunes.
She insulted me in Marrakech
Pedro's Walk
Here are some tunes from a more recent gig in December 2007, recorded by Rikki Borkum, the bass player. They have been edited to reduce their size, but unfortunately, this has also affected the quality
Hamerphilia
Hangover Street
Blues in my shoes
Programme for the 27th August 2009
1. Us (Thad Jones)
2. Blues for Pipkins (Ian Hamer)
3. I do love to be beside the seaside (John A Glover-Kind, arranged by Paul Busby)
4. So What (Miles Davis, arranged by Ian Hamer)
5. Gentle Piece (Kenny Wheeler)
6. Hamerphilia (Ian Hamer)
7. Stolen Moments (Oliver Nelson)
8. No more blues (Jobim, arranged by Paul Busby)
9. The Wrong Song (Paul Busby)
10. Song for a sad lady (Tubby Hayes)
11 .Blues in my shoes (Peter Herbolzheimer)

Contacts
If you would like more information about the band or would like to book it, please contact Patrick Billingham on 01273 624446 or email "g8aac@yahoo.co.uk"
If you would like to be added to the mailing list to be informed of upcoming gigs and general news, send an email to Patrick.
---
Some Photographs of the Band taken by John Ritson (one of the tenor player)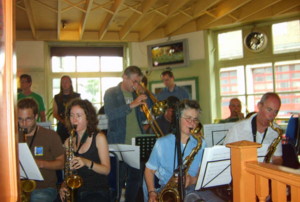 Brian Tewson soloing on valve trombone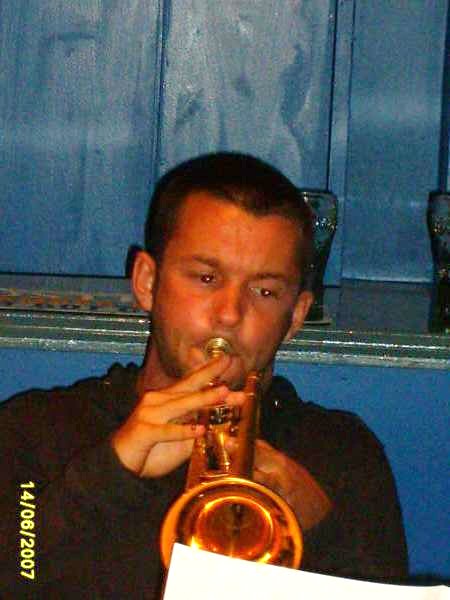 Robert Heasman on trumpet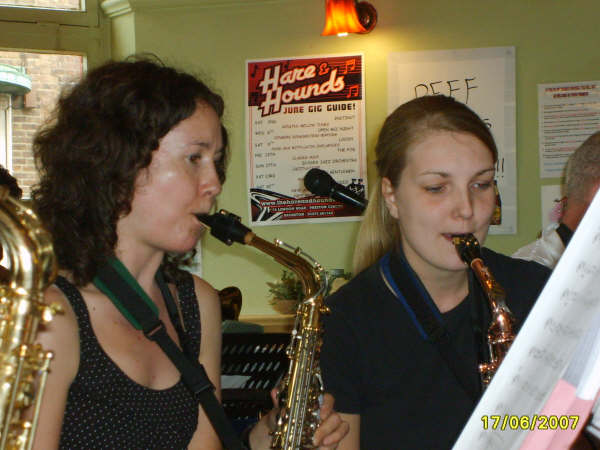 Linda Atkinson and Elma Houghton on altos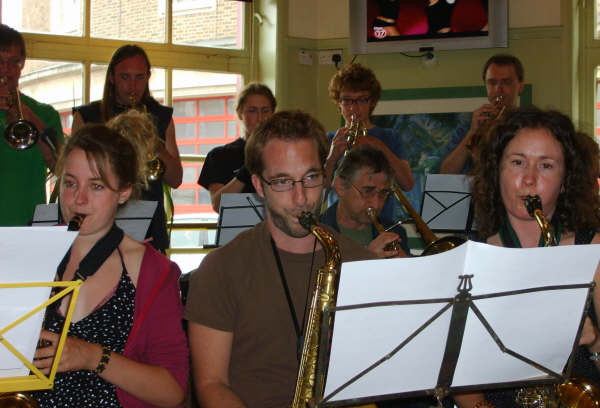 Claire Ellis, Jake Goss and Linda Atkinson on altos,
Andy Casterton, Matt Ellis, Joe Jackson, Josh Habgood-Coote and Simon Bridge on trumpets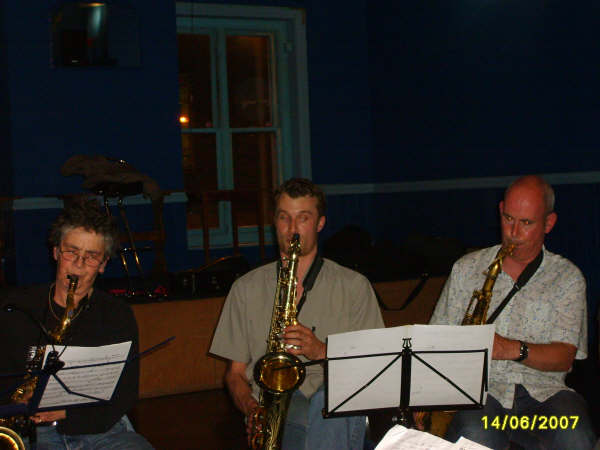 Angéle Veltmejer, Jim Cheek, Andy Pickett on tenors at a rehearsal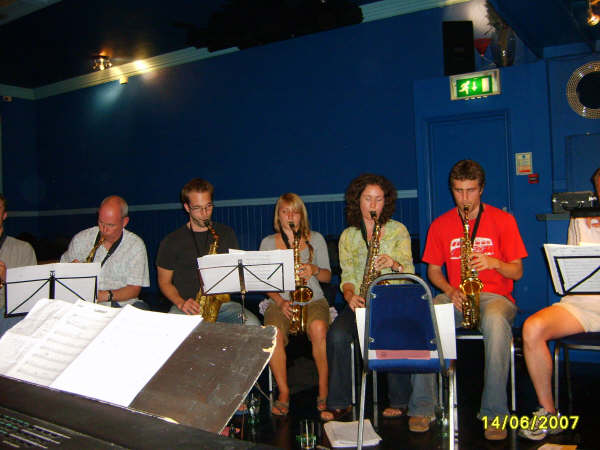 Patrick Billingham's shoulder (baritone), Andy Pickett (tenor), Jake Goss (alto), Rachel Eyre (alto),
Linda Atkinson (alto) Tom Rider (alto) and Kjell Berglund's leg (trumpet)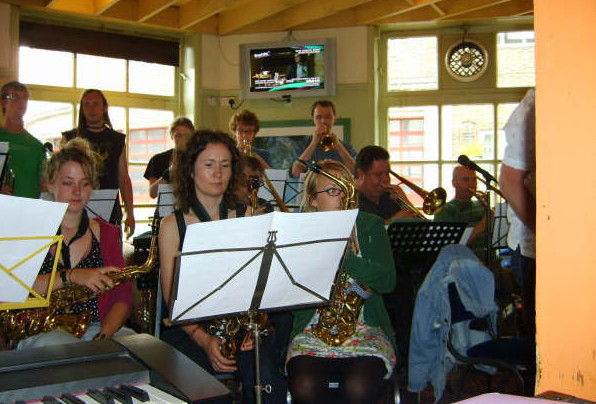 Claire, Linda, Rachel (altos),
Brian, Duncan Reeks and Tim Wade (trombones),
Andy, Matt, Joe, Josh, Simon (trumpets)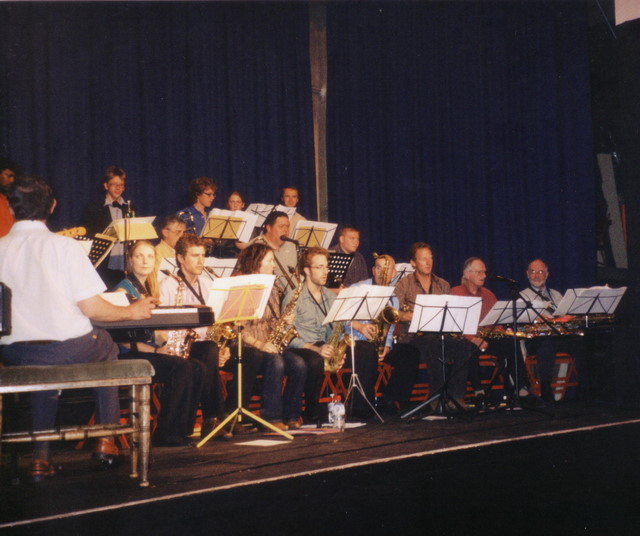 Concert in Lewes with Byron Wallen in red shirt (top left)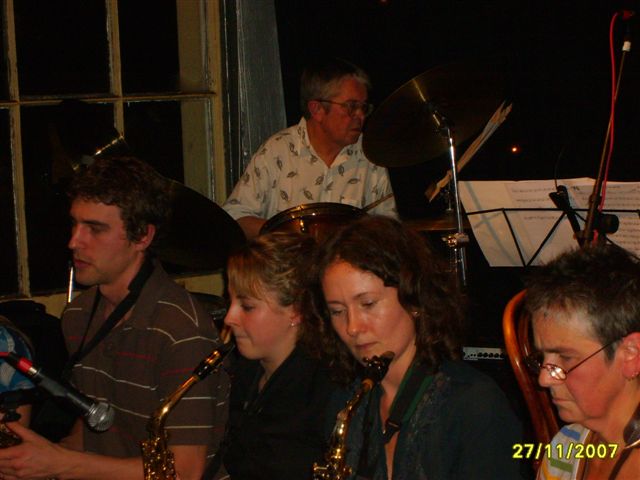 Prince Albert gig - Louis Borenius (drums), Tom, Claire, Linda,Angele (altos)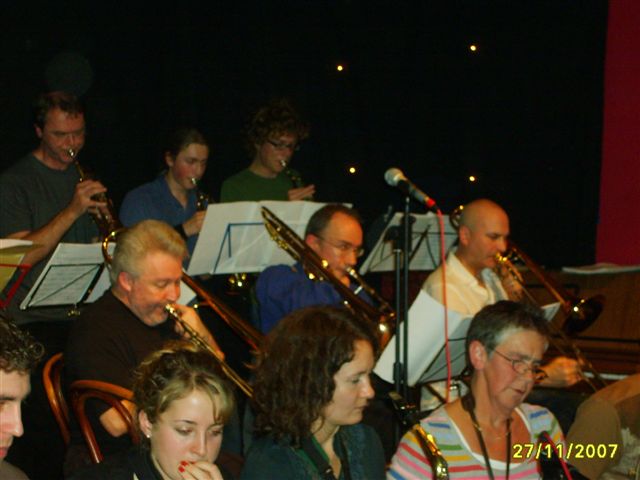 Simon, Joe, Josh (trumpets), Jerry Dearden, Mark Bassey, Tim Wade (guest trombonists),
Tom, Claire, Linda, Angele (altos)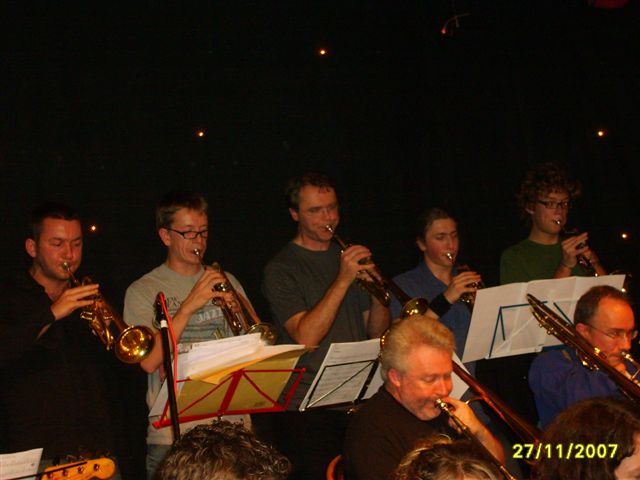 Rob, Pete, Simon, Joe, Josh (trumpets), Jerry, Mark (trombones)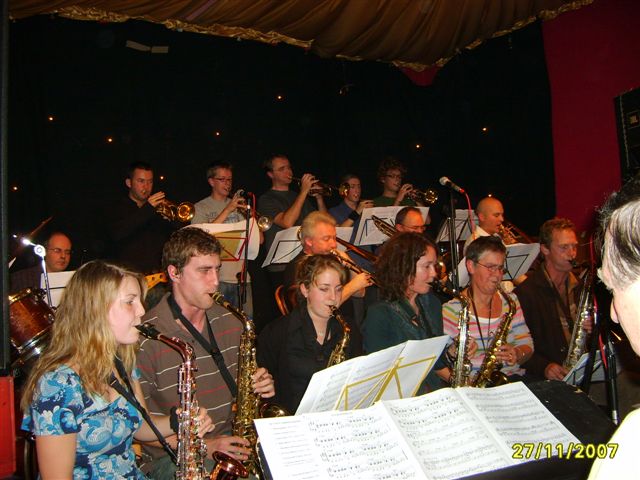 >

Rob, Pete, Simon, Josh, Joe (tpts),Rik (bass) Jerry, Mark, Tim (tbns),
Elma, Tom, Claire, Linda, Angele, Brendon (saxes),Paul (piano)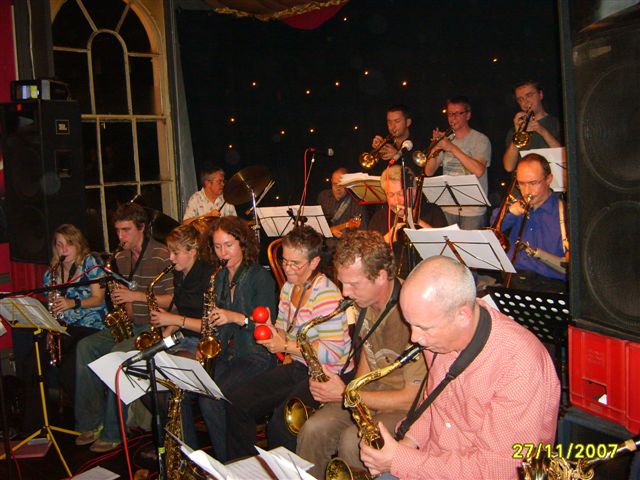 Rob, Pete, Simon (tpts), Louis (dms), Rik (bass)
Jerry, Mark (tbns), Elma, Tom, Claire, Linda, Angele, Brendan, Andy
...and part of Patrick's baritone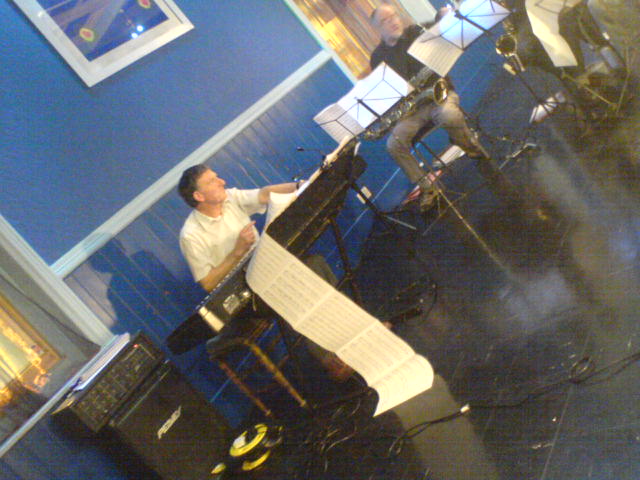 What happens when the piano-player gets lost!
Note - a nearly complete picture of Patrick, for a change.
(thanks to Claire for this photo)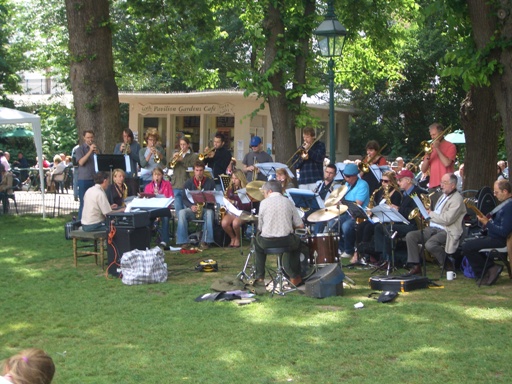 Gig in the Pavillion Gardens, Brighton, June 2008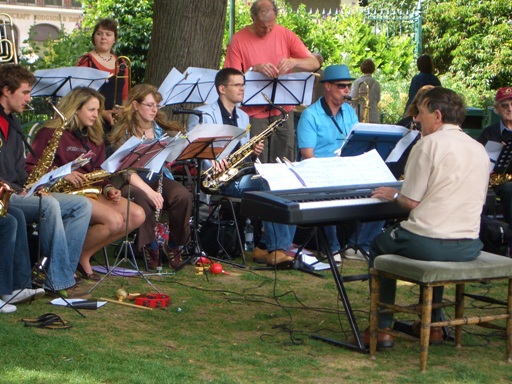 Close-up of some of the band in the Pavillion Gardens.
Thanks to David Sewell for the last 2 photographs.
Thanks to people who dep with the band on occasion: Dean Morris, Derek Roberts and Chaz McCloud, Dave Trigwell, John Wood on drums; Phil Paton and David Black on saxes; Tim Wade, Mark Bassey, Dave O'Flynn, Chris Mackey, Chris Starkey, Bill Guy, Jasper Franklin and Gerry Dearden on trombone; and Gerry Dearden (same person) on bass.